Book Your 2023 Christmas Party Venue at Railside

Christmas party venues in Kelowna can be hard to find this time of year and the holiday season is rapidly approaching! If you're planning on throwing a staff Christmas party, year-end celebration, birthday, or some other festivity, why not host it here at Railside? This year, we are offering up our space and decadent beer as the backdrop for all of your holiday parties! Located conveniently in the downtown brewery district, our microbrewery is the perfect spot to celebrate all that there is to celebrate in December.
Let's go over some of the reasons why you should choose us as your host and provide some tips on how to ensure you secure your preferred date.
Follow along below to learn more!
Why Should You Choose Railside over other Christmas party venues in Kelowna?
The Central Location and Free Parking
One of the best parts about Railside is our location! Situated just on the outskirts of downtown, we are close to numerous workplaces and restaurants. This makes it easy for many groups to make their way to the party after work or head home (safely) in a short amount of time. Alternatively, being close to other venues makes it easy to continue the party at another establishment in the area! Unlike many Kelowna venues downtown, you don't have to pay for parking at Railside. We have sixteen spots on-site and there is also room to park on the surrounding streets without feeding a meter.
Our Delicious Beer
Railside Microbrewery is not your typical event venue. It's a craft beer lover's paradise. Our handcrafted recipes are brewed to perfection to ensure that you wow every guest. Craving something hoppy? We got it. Need something dark to hide your hatred towards that one colleague? We got it. What about something for the non-beer drinkers? We have that too. From beer and cider to wine and non-alcoholic beverages we have all the spirits to get you in the holiday spirit!
Flexible Space
Our giant venue makes it easy to host parties of all sizes. It's worth mentioning that Railside has an indoor capacity of 77 people and an outdoor capacity of 38 people. Whether you're a small business or a large corporate body, we have room enough for everyone! Get your groove on, or sit back and watch your coworkers embarrass themselves. Be sure to chat with us if you're interested in having some kind of formal entertainment like live music, comedy, games, or another experience. Our staff is more than happy to help accommodate your vision. This way you can craft an event that's memorable for all of your guests!
How to Secure Railside for Your Christmas Party Venue in Kelowna & Ensure Everything Goes to Plan?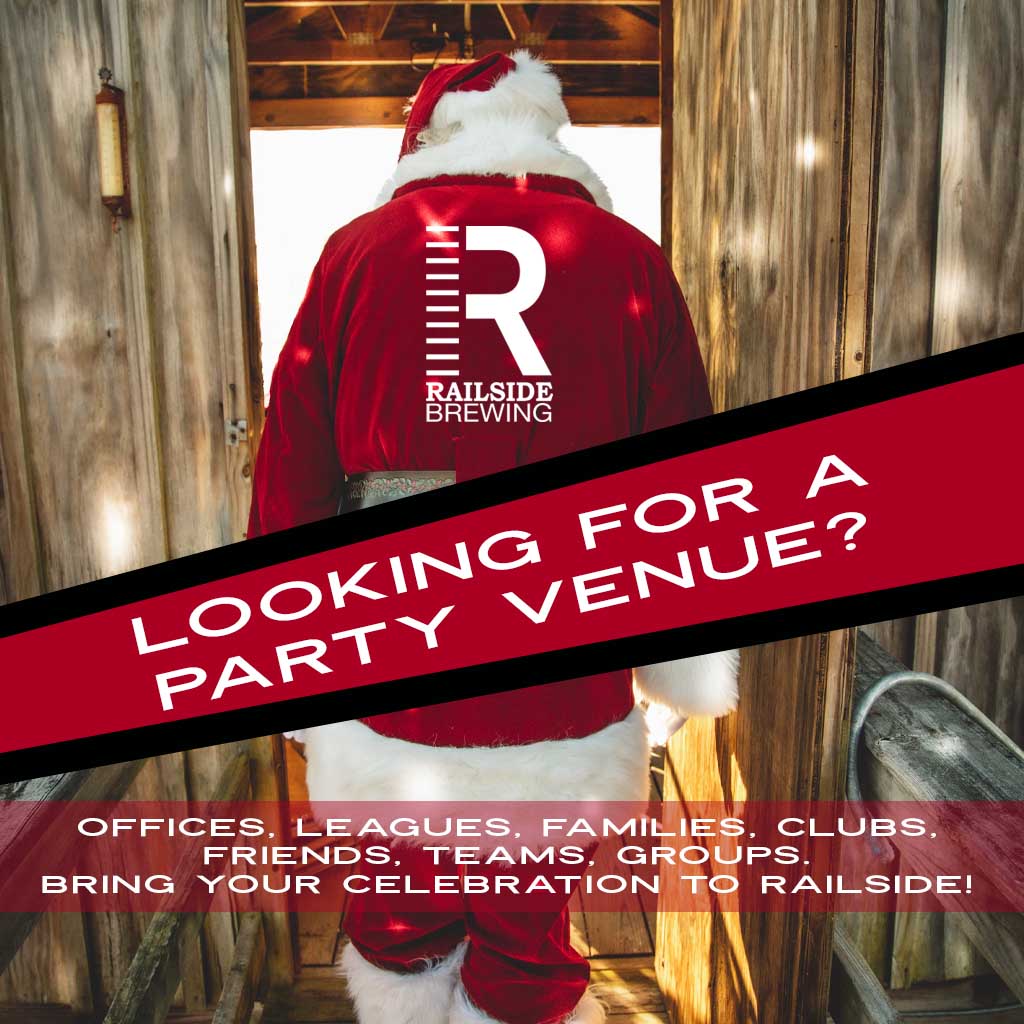 Book Early
If you're eager to secure a date and time at Railside this winter, we encourage you to book early! Kelowna event venues are limited and spaces tend to book up quickly—especially during the holidays. Reach out to our team ASAP with any questions you have about hosting your party in our space. Be sure to include details about the number of guests that will be attending, any special requirements needed, and other information that you think is vital to your event.
Plan Ahead
Planning ahead is a crucial part of ensuring that your event goes off without a hitch! We recommend that you send invitations to guests as soon as you can and make sure that they RSVP in response. This will help you to find a venue that suits your guest capacity. Additionally, you'll want to determine what kind of entertainment will be provided. Do you want live music? Some kind of performance? Comedy? Games? These details should be predetermined so that you can let the venue know and make sure that they can accommodate your wishes. It should also be mentioned that Railside does not offer food, however, catering is an option, so get in touch with us to discuss the details.
Let us Know How We Can Help
If you need help with any aspect of your event, let us know! Whether it's getting in touch with a catering company/food truck, finding live entertainment, or something related, we can be of assistance.
Contact us Today!
The holiday season is approaching at lightning speed! Now is the time to start thinking about a venue for this year's holiday events! For more information about hosting your celebration at our brewpub, contact us today! We'd be delighted to chat with you about what's possible. Be sure to keep a lookout on our social media for more information about what Railside has going on in the upcoming months. We look forward to seeing you at the brewery soon!
https://railsidebrewing.ca/wp-content/uploads/2023/10/small-event-venues-kelowna.jpg
498
1201
Railside
https://railsidebrewing.ca/wp-content/uploads/2023/07/R-FINAL_white_1667267887-239x300_withspace.webp
Railside
2023-10-30 16:35:20
2023-10-30 16:36:04
Book Your 2023 Christmas Party Venue at Railside